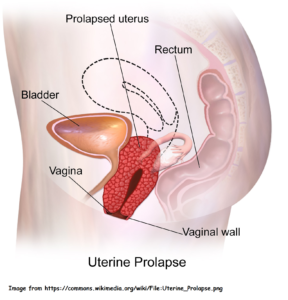 This refers to the descend of the uterus into the lower half of the vagina and beyond. In its most severe form, the whole uterus may be outside the vagina. Besides the uterus, other pelvic organ may descend as well such as bladder (cystocoele), rectum (rectocoele) and the small intestines (enterocoele).
Symptoms and signs
A lump is seen or felt at the opening of the vagina. It may be seen protruding outside of the vagina.
Vague discomfort or pressure in the pelvic region.
Backache that worsens with lifting.
Urination problems such as frequent and painful urination, difficulty in urination. occasional stress incontinence (urine leakage when laughing, sneezing or coughing), inability to control urination (uncontrollable urine leakage).
Difficulty in defecation.
Pain during or difficulty with sexual intercourse.
Abnormal per vaginal bleeding, usually arising from the exposed vagina wall and cervix.