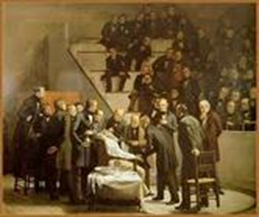 Dr. William Morton demonstrated the first public administration of ether anaesthesia in the operating theatre of the Massachusetts General Hospital on the 16th October 1846
That day is remembered as a milestone in anaesthesia and celebrated as World Anaesthesia Day.
From that date onward, many progresses have been made in the field of anaesthesia, and more so specifically for the practice of obstetrics and gynaecology.
On the 16th August 1897, a German surgeon by the name of Dr. August Bier administered the first spinal anaesthetic.
Spinal anaesthesia becomes one of the most popular methods of administering a patient pain free from surgery of the lower limbs, lower abdomen and Caesarean sections and is still widely used.
Read moreAnaesthesia and Analgesia in Obstetrics and Gynaecology